A seasoned hiker who wants to take it up a notch and get into backpacking?
backpacking ~ the activity of travelling or going camping while carrying your clothes and other things that you need in a backpack
Also called tramping in New Zealand ;)
Getting from point A to B using just your own two feet, carrying everything that you need on your back, is incredibly empowering.
In our humble opinion, there is little else that is more grounding and elemental.
But when you're new to the scene, it can all be a bit daunting.
Who knew there were so many different types of sleeping bags and backpacks? Why is everyone soooo against cotton? And surely there's another way to cook than just over a campfire or one of those portable but still seriously bulky stoves?
We have partnered up with Freeland Hiking Co to bring to you an overnight hike that will not only have you fall in love with backpacking but will equip you with the knowledge for future adventures of your own.
Let us be the launchpad to a lifetime of clocking up the miles on beautiful trails and countless nights sleeping in epic landscapes.
Here are the details:
LOCATION:
Blue Mountains National Park
DATE + TIME:
Saturday Sept 21 - Sunday Sept 22
7.30am start, 6pm finish
Start + end point is Central Station
WHO IS THIS TRIP FOR?
This trip is for any woman who:
is relatively experienced with hiking or is fit enough to hike for 6-7 hours per day for 2 consecutive days in hilly terrain

can do the above with a backpack weighing 10-14 kilograms

hasn't had any overnight experience and wants to get into multi-day hiking and camping

loves the outdoors and is up for a challenge!
LESSONS/ITINERARY:
We'll be embarking on the Ruined Castle Overnighter! Sprinkled amongst the below will be informational segments on:
How to pack your backpack ergonomically

How much your backpack should weigh

How to choose a sleeping bag

How to choose + why use a sleeping bag liner

How to choose a sleeping mat

How to choose + use your clothing layers

How to sanitise in the outdoors

How to choose a camping stove

How to purify water

How to manage blisters + foot care
Day 1: Leura to Ruined Castle
12km ~ 7hrs
+ optional 2km climb up Ruined Castle
Our journey begins at our meeting point at 7.00am, where we will drive approximately 2 hours to Leura, the gateway to the beautiful Blue Mountains. Leaving our bus behind, we will descend into the majestic Jamison Valley along the spectacular Leura Cascades track, crossing streams, walking under waterfalls and skirting along cliff edges.
Reaching the bottom, we will travel along the Federal Pass, beneath the iconic Three Sisterss, stopping beside Katoomba Falls for a well-deserved rest and a fresh picnic lunch.
We will then make our way towards the first technical climbing feature for the trip; traversing the colossal landslide that flows from high above you into the valley floor below. Dipping back into sub-tropical rainforest, the track will curve around the valley, heading south towards the base of the Ruined Castle.
Swapping our larger packs for smaller day- bags, you will have the option to climb to the top of the Ruined Castle, a fantastic crumbling mountaintop providing us with the first glimpse of the Megalong Valley to the west and Warragamba Dam to the south.
Descending via a different path, we will arrive back to our camp, tucked into the base of the mountain amongst scribbly gums, old man banksias, and soft tree ferns.
While your guides prepare a delicious meal, you will be able to set up camp and prepare for your first night out under the stars.
Day 2: Mt Solitary Summit, Ruined Castle to Katoomba
14km ~ 6hrs
A beautiful wake-up call from the birds will rouse you, while your guides prepare a hot drink and warming breakfast. After packing up camp, and equipping our daypacks, we will make a start towards the mighty Mt Solitary and begin the ascent up Korrowall Knife edge. The track starts gently, gradually
climbing through a shady she-oak forest, with teasing glimpses of the view filtering through the trees.
As we move towards the base of the rocks, we have time to stop, admire the landscape and catch our breath, before beginning the more technical ascent up the mountain. This section will have us climbing over ledges, twisting around giant boulders, and skirting along the edge of the ridgeline towards the final summit. It's a challenging part, but it's also extremely exhilarating, and with the promise of a breathtaking view from the top, you will be inspired to reach the top.
Once there, we can rest a while in the dry sclerophyll forest, where yellow robins, black cockatoos and maybe even the rare peregrine falcon will join us, before reversing the process and descending back to camp for lunch.
After a nice rest, we can transfer our daypacks into our larger packs, and return along the same route, following the Federal Pass towards Katoomba.
This time, we will stop just after Scenic World, and ascend the historic Furber Steps**. With lighter packs, and stronger legs, this final challenge will lead us up and out of the valley, where will can climb gratefully onto the bus and relax on the 2-hour journey home.
Our estimated arrival time will be 6-7pm at Central Railway Station.
** Guests can also choose to ride the World's Steepest Railway out of the valley for a dramatic, (and less physical) end to the tour. One way tickets cost an additional $23 and can be bought on the day.
ADVENTURE PREREQUISITES:
Though you don't need any overnighter experience, you should be in good physical condition; good enough to hike 12 kilometres on day 1 and 14 kilometres on day 2, all with a pack weighing 10-14 kilograms.
INCLUSIONS:
All equipment + food - see below for more details

Take Home Information Manual! You'll be learning a lot on this overnighter. With this Manual, you can refer to it when making your gear purchases later.

Two professional female wilderness guides

One night camping

Tent, sleeping bag and sleeping mat

Hiking Backpack (70-90L)

Compact daypack for mountain climbs

One breakfast, two lunches, and one dinner

Snacks on the trail

Group camping equipment included: stove, pots, tarp, etc.

Transport to and from Sydney

All national park fees and track fees

Emergency communications and first aid kits

CANCELLATION POLICY
In the event of bad weather, we will aim to re-organise the event.
If you're unable to make the new date it we will offer you a full refund.
No refund on tickets on cancellations as of August 1st 2019
No refunds on no shows.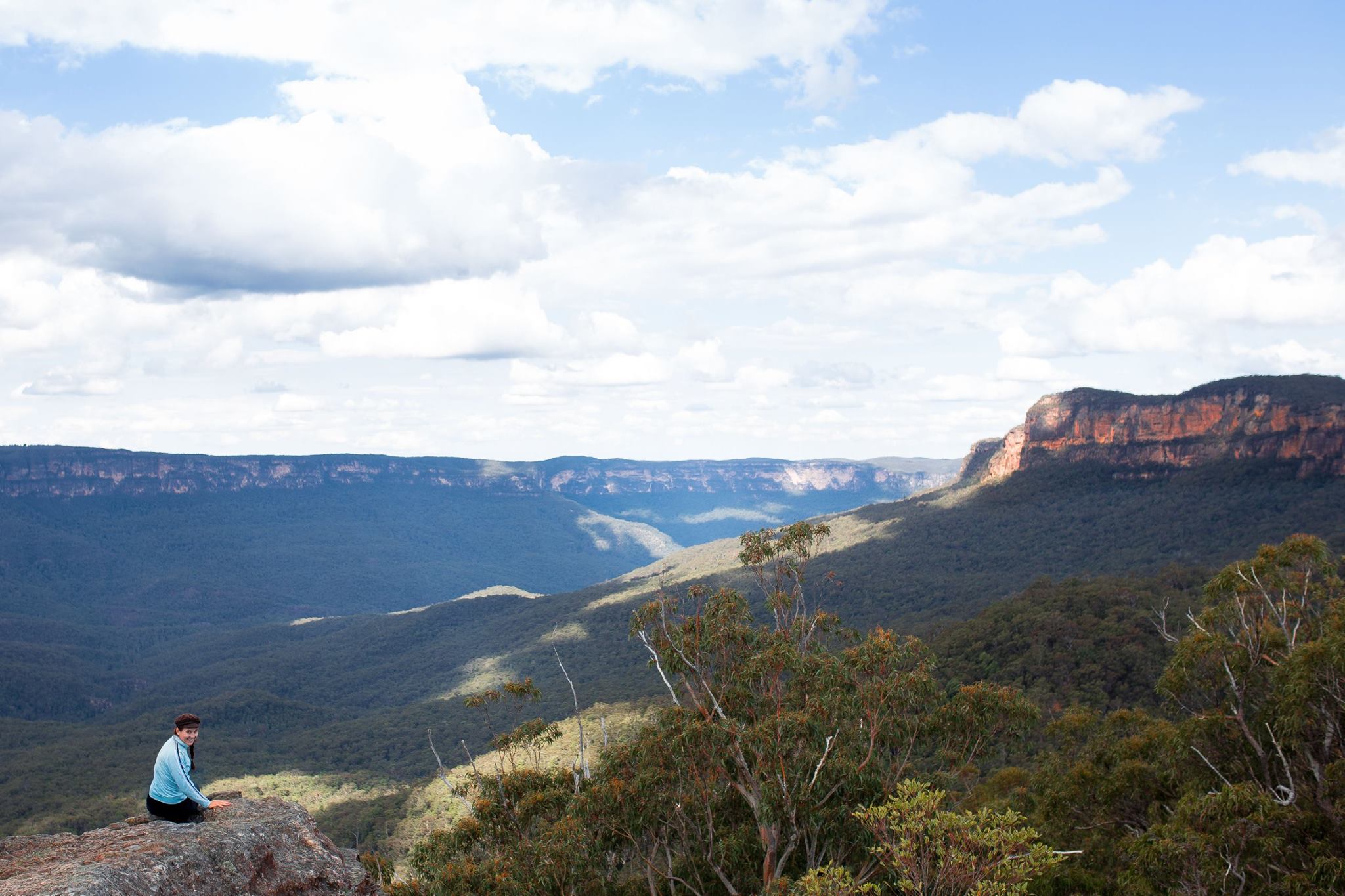 So how much does this overnighter workshop cost?
Transport, gear and all meals included PLUS a goodie bag for 550 dollars
AND THAT'S IT!
WE STARTED SHE WENT WILD WITH THE AIM TO EMPOWER AND ENABLE WOMEN TO GAIN THEIR FOOTING IN THE OUTDOORS AND KICKSTART A LIFETIME OF ADVENTURE AND SO WE HOPE TO SEE YOU ON THIS CLASSIC AUSSIE OVERNIGHTER + INTRO TO BACKPACKING WORKSHOP, WITH BIG THANKS TO FREELAND HIKING CO!

GOT QUESTIONS?