How to Hike the Scottish National Trail
The Scottish National Trail, known as one of Britain's toughest hikes, is an 864 kilometre route that runs the length of Scotland.
When asked about her 'why' behind the Trail, Yvette Morrissey said that she felt burnt out and wanted to go back to basics; back to nature and to reconnect with herself. The Trail seemed like the perfect vehicle to do just that, as well as an adventure that would give her lifelong memories.
In May 2018, Yvette became the first solo female to complete the Trail.
We get all the ins + outs of this feat straight from the Wayfaring Kiwi herself!
•••
"How long do I need to hike the Trail?"
Yvette spent seven weeks on the Trail. Common advice will suggest the Trail can be done in five weeks but Scotland's weather is notoriously unpredictable and two weeks' padding will give you ample time to manage contingencies.
Plus, as Yvette says, "this hike really allows you to connect with yourself and the land, so take it slow and enjoy it, absorb as much of the experience as you can."
"What can I expect, week to week?"
Week 1: the warm up week
The Scottish National Trail winds through very varied terrain, starting with long-established footpaths (though with a fair amount of ascent and descent) and finishing in wild Highland country with more difficult and off-track hiking.
The first week saw Yvette hiking through the Scottish Borders to Edinburgh, passing through rolling hillsides, on old Roman roads and through quaint villages. Many of the paths are steeped in history having been old drovers paths and the roads the English took when they invaded Scotland (and vice versa!).
This early section is the easiest walking to be done on the Trail but being the first week, there is a different type of challenge; "while the hiking itself wasn't that tough, my body spent this time adjusting to the weight of my pack and full-time hiking so my energy came in peaks and troughs."
Week 2: walking the canals to Milngavie
Walking the canal towpaths is also relatively easy and there are plenty of historic towns to explore such as Linlithgow and Falkirk.
It could become tedious for some but as Yvette says, "the flat walking and shorter routes combined with the abundance of facilities gave me the chance to recover from the first week!"
Week 3: Milngavie to Pitlochry
This section which is part of the West Highland Way and the Rob Roy Way is fairly straightforward. The crowds start to thin out and the first pathless sections appear. Highlights include Doon Hill (a hill rumoured to be the 'home of the fairies'), the Birks of Aberfeldy and the village of Aberfoyle.
Week 4: the wilderness from Pitlochry to Fort Augustus
This week sees your first taste of the Scottish wilderness with a 3-day wild hike through the Cairngorms National Park. You definitely need maps and a compass for this section as there is no mobile reception. The Glen Feshie area is stunning and was the setting for Lancier's famous painting 'Monarch of the Glen'. The 2-day hike via the Corrieyairack Pass follows an old military road that sees you climb a hill that descends down to the shores of Loch Ness.
Week 5: Fort Augustus to Kinlochewe.
The north-west highlands sees a significant change in the terrain with much of the trail pathless and hard-going. And this is where the bog makes its first appearance!
"This was the week I felt that I really left civilisation. Reception was non-existent or very poor and I went without contact with people for a few days. This was also the most mentally challenging time on the trail and it only got harder as I neared the end."
Weeks 6 and 7: the home stretch
The home stretch is essentially just the second half of the Cape Wrath Trail, touted as Britain's toughest hike...so you are finishing with a bang! Albeit...a slow bang.
"I could have completed the final section in one week but I wanted to slow down and enjoy the scenery. And I literally had to slow down anyway as there were plenty of rocky, pathless climbs to contend with as well as being almost completely out of reception."
Read more: Life Lessons Learned from Long-Distance Solo Hiking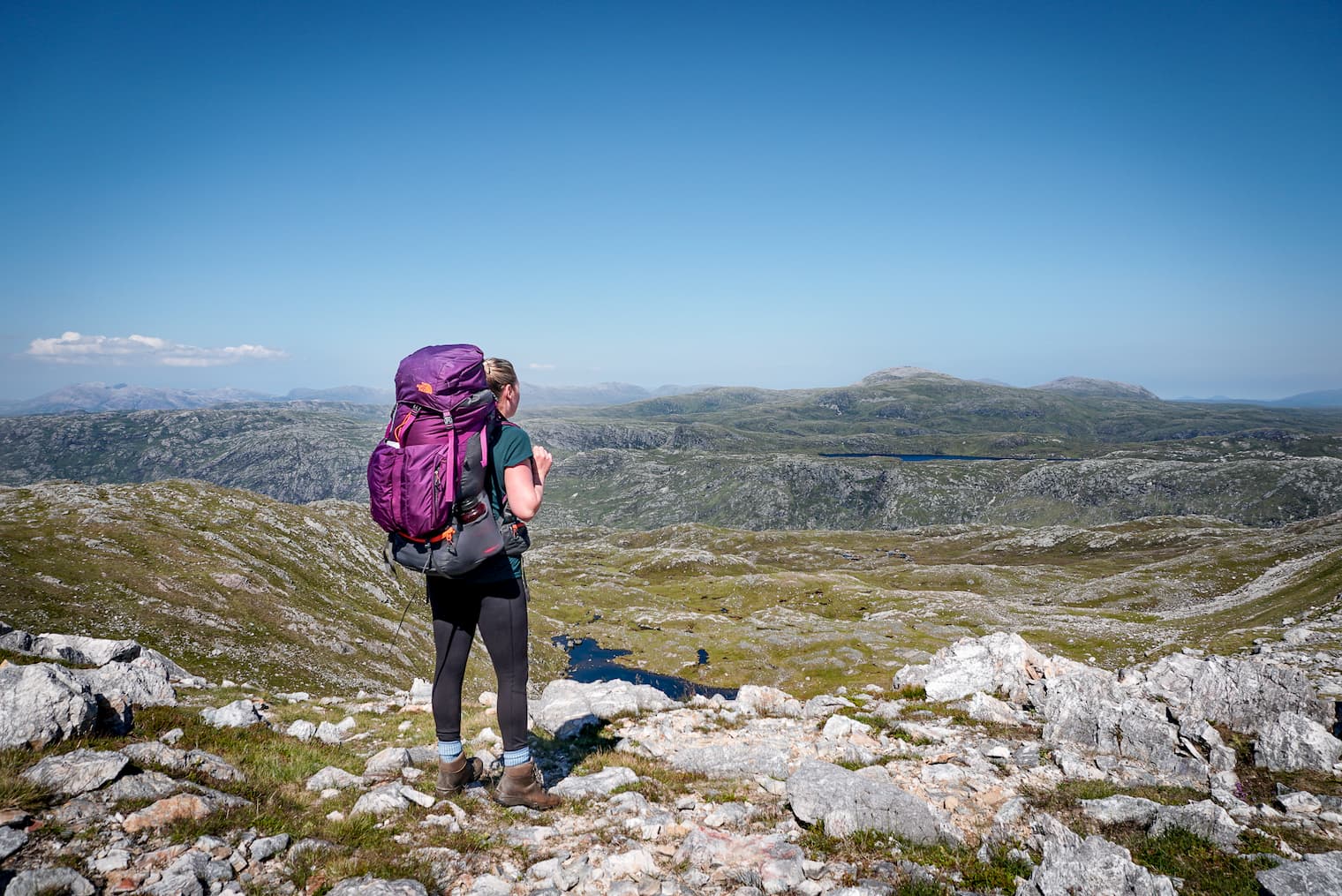 Outside of the terrain and whatnot, you'll find that your mental state also changes from stage to stage, from week to week.
"When I started, I was on a high. I was really excited to get going and this lasted for about a day. Then I kind of fell into "what the hell have I done" panic. This feeling would come and go.
I had two voices in my head; one questioned everything whilst the other was more like a supportive "you can do this, just take it easy" voice. I found the further I walked, the stronger that supportive voice got. I liken these voices to the ego and the authentic self. It was fascinating to see my authentic voice grow throughout the hike. Developing that voice was one of the greatest gifts the Trail gave me. "
"What do I do with food?"
The Trail is set up in such a way that it's only for the final couple weeks where you will need to be self-sufficient with food. Therefore, it's completely possible to do the Trail without a camp stove at all.
The first half of the Trail passes through so many towns that it is possible to restock regularly at shops and refuel each night with a cosy pub meal. "Knowing that I would end each day with a pub meal was great motivation to keep walking! During the day I ate bread, chocolate and granola bars - anything high carb for high energy. And for when I had to carry six days' worth of food with me towards the end, this was basically what I ate."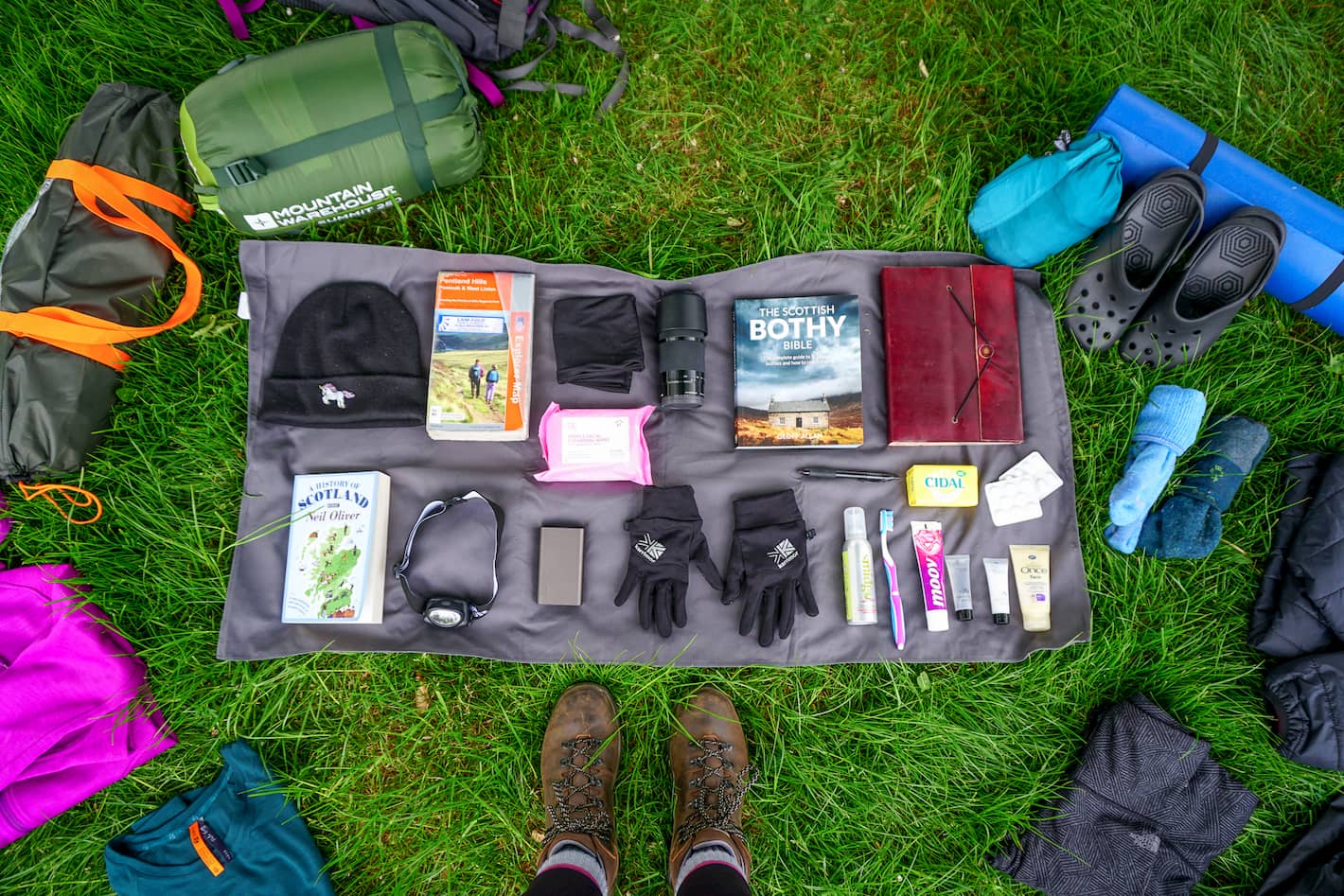 Besides the other essentials alongside food, you should also carry Smidge (midgey repellent) and a tick remover with you! Cleggs (basically blood-sucking horseflies) are like the distant relative that well overstays their welcome on the Trail.
"Where do I sleep and shower?"
To strike a good balance between wild camping and a touch of luxury (i.e. a shower and a decent night's sleep in a bed!), Yvette recommends booking into a hostel 3-4 nights per week and wild camping the rest.
She personally only booked for 1-2 nights each week. "I quite like that I hadn't planned my hike out perfectly. This gave me the opportunity to change my plans, switch up my days off, and if I met someone who offered me a bed for the night I'd gladly take it."
There is one bothy, though, that should not be missed. It is situated at the head of Loch Glencoul, one of the most beautiful lochs in Scotland, and is only accessible by hiking in or by kayak. "To be in a place very few people visit was incredible and it was the best reward after a physically and mentally taxing day on steep, unmarked terrain through bogs and rivers...and in the middle of a heatwave too!"
Do you know what 'bothy' means? It's a Scottish term for a small hut or cottage used as a mountain refuge
"How should I train and prepare for the Trail?"
It is recommended for anyone about to undertake a long-distance hike to be physically fit and able. Putting your body (and mind) under the duress of backpacking without preparation can cause injury...or just result in a seriously unenjoyable experience!
Something that many people underestimate is the strain on your body from carrying a heavy pack, especially uphill and downhill. The pack can change your gait, that is your manner of walking, and your posture. This can result in soreness in places you typically don't get sore from just 'regular' walking! It is wise to head out on a couple long-distance hikes with a moderately heavy pack to ascertain where you feel the weight most. This way, you can experiment with your pack to find the best setup, whether that's a different style of bag or the way you adjust the straps. You may also find during this 'testing' that your shoes are either too big or too small (though hopefully, they are just right!); if they are too small, your toes will constantly smash against the front of your shoes when going downhill and if they are too big, the excessive movement within your shoe can cause blisters.
Yvette was already relatively fit and accustomed to doing a lot of walking in her daily life. The training that she did complete, which was specific to the Trail, was mental preparation. "I studied the potential hazards along this hike and researched what I should do if I came across a river in spate or got lost. I prepared my mind more so than I trained my body, and I think that made all the difference for me."
Read more: Want more long-distance hiking stories? Hiking the Pacific Crest Trail: Expectation vs Reality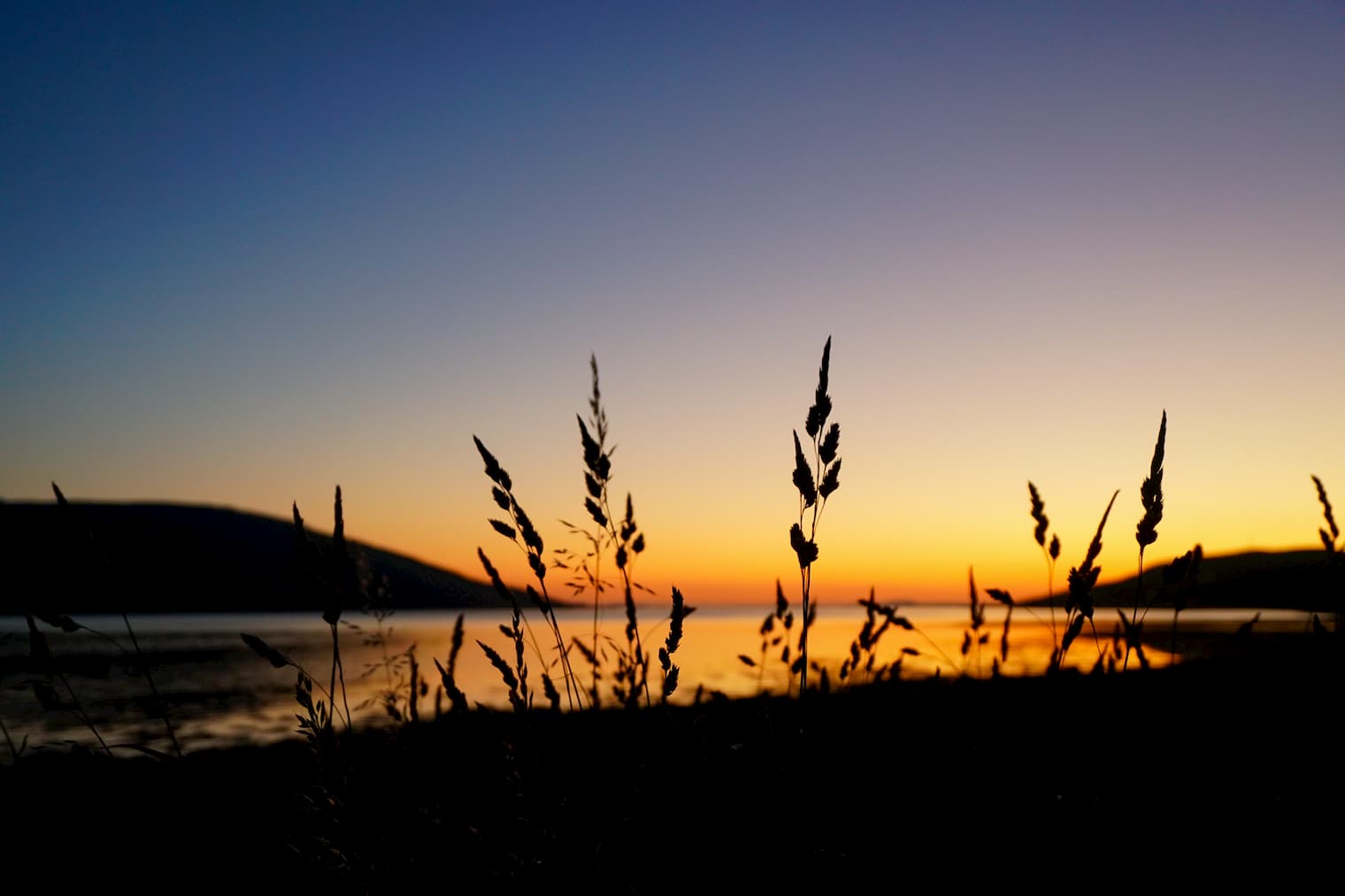 Don't hike 864 kilometres...hike 1 kilometre, 864 times. Have a rough plan of the entire Scottish National Trail but don't plan more than a week in advance as this can feel too overwhelming.
"I don't have time to do the entire Trail so what do you recommend?"
It isn't possible for everyone to spend over a month hiking so if you only have a few days up your sleeve, Yvette recommends the section from Poulary to Maol Bhuidhe. "There are two fantastic bothies on this route. One of them is Maol Bhuidhe, one of the most remote bothies in the country. The landscape is also quite rugged- you really feel as though you're in the middle of nowhere; untouched Scotland.
Yvette also speaks highly of the area surrounding Morvich. "I had a very special experience hiking out of Morvich part way through the Bealach na Sroine pass. I saw a herd of around fifty deer, grazing on the opposite mountain. It was during of Storm Hector. It had been raining on and off all day. Everyone would have been tucked away in their homes and yet here I was, standing on a mountain in the middle of a storm with these wild animals around me. I called out to them and as my voice echoed off the hills, they started galloping across the hill. It was breathtaking.
This section of the Scottish National trail has endless wild camping opportunities; you also hike to one of Britain's tallest waterfalls, the Falls of Glomach; past the original Caledonian forest which is home to (what is thought to be) the oldest tree in Scotland; and past views of the Five Sisters of Kintail.
Learn more: about Kintail and Morvich via Visit Scotland
•••
Coming out of the wild country to Sandwood Bay, an iconic Scottish white sand beach, marks the last milestone before completing the entire Scottish National Trail. The endpoint is Cape Wrath, a lighthouse that marks the most north-westerly point in Scotland. And like with all long-distance hikes, despite all the ups and downs, reaching the finish line is always somewhat bittersweet. "When I reached the lighthouse at Cape Wrath, I remember thinking that I just wanted to keep on walking. By then, walking was so ingrained into my life. I felt it was too soon to stop and go back home to Edinburgh."
Go back to Edinburgh, Yvette did. All good things come to an end...but only to give way to more good things!
Follow Yvette's adventures on her blog at www.wayfaringkiwi.com or on Instagram at @wayfaringkiwi11
Yvette Morrissey
Yvette is a solo female traveller, accidental adventurist, digital nomad and travel expert.
To learn more about how to hike the Scottish National Trail, read Yvette's comprehensive guide.